In terms of challenges, photographing newborn babies can be one of the biggest of them all. As with so many subjects in photography, the art of being able to photograph a baby comes after years of learning, practice and patience… and patience is one thing I have plenty of. However, I can assure you that even after photographing subjects of all ages over the years; the one thing that has always remained constant throughout my professional career is that while taking photos of newborn babies is never an easy task, it is by far the most rewarding.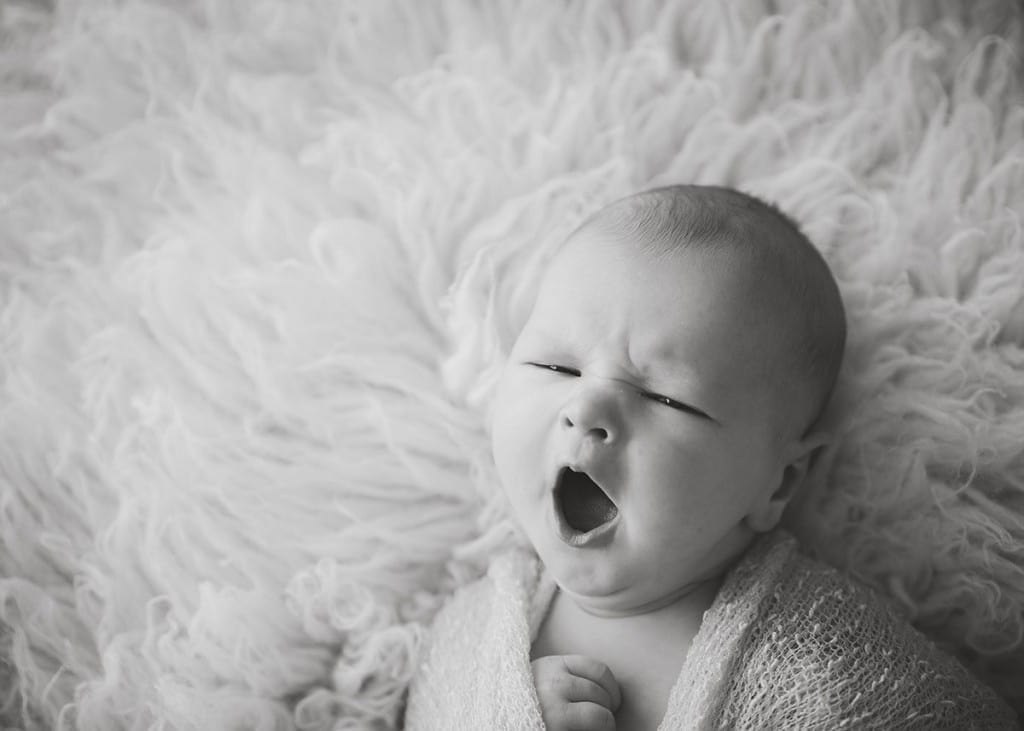 While I've had years to hone my skills as a professional newborn photographer, to the average Joe, it will be a challenge. It is because of this that I decided to put this article together in the hope that I can provide tips on newborn photography to help you savour every moment you have with your newborn.
Preparation
It doesn't matter how many times I say this, you can never be prepared enough. This is especially true when you are taking photos of newborn babies. Unfortunately, even the most experienced photographers will tell you while some newborns are as good as gold, that there are just some that will constantly cry and scream throughout the entire photo-shoot.
At Little Orange Photography, when shooting a newborn photography session, I always prepare the studio ahead of time. I make sure I have an abundance of soft blankets, rugs, throws, etc. at hand for the baby to lie on and be wrapped in. Having things such as clothes at hand is of no great importance as most parents want their newborn to be photographed in the outfit they have brought them to the studio in, but I do strongly recommend you have a backup outfit in case of an accident. I often have a few accessories such as bonnets or soft, stretchy hats available, but generally, you will not need much else beyond that.
For more information, be sure to read an earlier post 'How to prepare for your newborn photography session'
Props
These can be a great addition to any photo, but you need to make sure that they do not detract away from your newborn. If you take photos of your baby without any clothes on, be sure to have a heater nearby so your baby does not feel the cold; otherwise, you will have one very cold and unhappy baby on your hands. If I can offer one piece of advice, keep your photoshoot simple. Do not overcrowd your baby with too many props and be considerate of the colours used; keep them soft and underwhelming.
When it comes to taking photos of newborn babies, try not to put your baby in any position that could cause them discomfort; putting them in natural positions always makes newborn photography a much easier job.
At Little Orange Photography, we always encourage parents to bring with them anything that will make their newborn baby more comfortable, for example, a soft toy that he or she may love having with them or a particular blanket, etc this is something I would urge you to consider for your photos. As with all newborn babies, each one of them is very different and so too are their parents. Some parents will want their baby in simple poses, while others will want their baby in a bowl or flowerpot, etc. Therefore, if you are after this type of prop, then make sure none of the items has anything that could be deemed harmful your newborn baby. Always check our props for substances such as lead paint or things of this nature.
Conclusion
In every photoshoot, making sure that our subjects are comfortable and relaxed is of the upmost importance, and nothing is more important than this when it comes to newborn photography. As long as you always remember to keep your baby warm, use simple colours, use props that are not harmful to newborns, and put your baby in positions that are natural and comfortable while remaining patient, then taking great photos of your newborn baby will be much easier to achieve.
If all else fails, that's what we are here for! If you are considering a professional newborn photography session, then Little Orange Photographers can do just that. Let us capture the very first moments of their newborn baby's life. Visit our website for further details or give me a call on 0449 658 131. I'd love to hear from you.
Related Topics