Gold Coast Family Portrait Photography by Little Orange Photography
The best part about my job is the pleasure it gives me to see the delight on faces as you see your own family looking good enough to feature in a magazine spread.
A family portrait really is a picture that speaks a thousand words. It will proudly celebrate those quirks and bonds that are unique to your family and in years to come it will serve as a time capsule, instantly conjuring up warm memories of how good you felt in that jacket you wore to death, the self-conscious way your daughter smiled when she used to have braces, the way your son's face lit up when he saw Grandma, the way your kids used to hold hands when they ran together.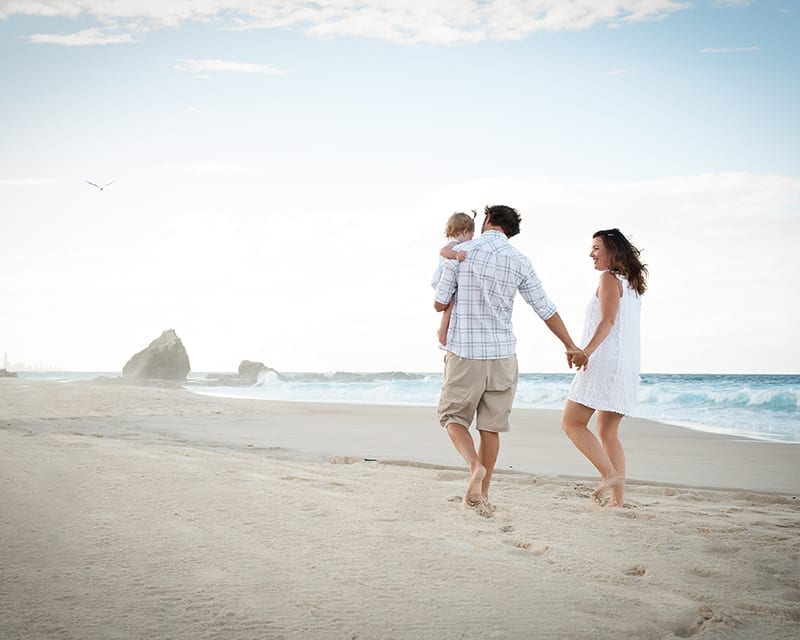 Part of the fun for you and for me is tailoring the photo shoot to suit your family. I can take your family portrait in my studio or outdoors in a setting of your choice. We can plan a playful, vibrant portrait photoshoot, or something raw and intimate in black and white, or anything in between.
Throughout the portrait photography session, I aim to make each member of your family feel special and beautiful. It's when that emotion is visible in the finished portrait that I can't fail to provide you with your very own family portrait that you'll adore forever.
You can be confident that my experience as a professional Gold Coast family portrait photographer, particularly photographing children, means that I know how to encourage them into place quickly but gently, all the time never missing this one's goofy antics, the quiet charm of another, or the heart-wrenchingly tender exchange between these two.
Consider bookmarking a moment in your family's life with a professional family portrait photography session – a new (or soon-to-be new) addition, one of your kids starting school or high school, a milestone birthday or wedding anniversary, a great haircut, a toothless grin, a few family generations together – whatever the reason, you will never regret having a family portrait taken to record this gorgeous memory, or perhaps giving one as an incredible gift to the people dearest to you.
Preparing for your Portrait Photography session
Allow about 1.5 hours for your portrait photoshoot and bring all the clothing and accessories you need. You can arrive and get your children dressed at the session if you are worried about them getting messy on the way. Please ensure faces and noses are clean (they are hard to Photoshop!) To be extra prepared, bring snacks and a favourite toy to comfort them if they are feeling overwhelmed at the session.
Children are unpredictable… so it is my job to be ready for anything! A lot of parents can get frustrated if their session doesn't quite go as planned, but the wonderful thing is that those moments, however fleeting, in between all the tantrums and chaos, are beautiful.
The one thing I ask of parents is to relax and enjoy it; I will do all the hard work! I will give you a lot of direction during your portrait photoshoot so you will know exactly what to do. Children match your energy, so if you are having fun & showing them how much you love them they will show you the same in return.
Please do not ask your children to smile! This gives an unnatural smile to family portraits and my job is to capture your great, natural smiles, perhaps ways you wouldn't have even thought of!
Once in a while there are children that for whatever reason, do not want to be photographed, if this is the case, I will try to encourage them but I will not push them to have their portrait taken and I also request that parents do not push either. I want your family portrait photography session to be a positive outing experience. When a child learns to feel safe in an environment and builds up a rapport with the photographer, wonderful things can happen. This then allows for future family portraits to be even more successful.
Please read the Terms and Session Information should you require more information. If you have any questions regarding my Gold Coast Family Portrait Photography service, please call or email photo@littleorangephotography.com.au – I look forward to hearing from you!
Portrait Photography Gallery (Click images for larger view)