A lifestyle session is completely different to your usual newborn photographer on the Gold Coast in studio session.
The session takes place at your home because you and your life is beautiful, your real everyday life!
Its runs for about 2-3 hours so you can feel completely comfortable and let go to be who you really are, all the while I'm able to observe and document your moments! The snuggles, laughter, tears and even the unexpected. Those moments are you and you are beautiful no matter what.
Oscar born 22nd December – A truly precious gift just in time for christmas, whilst we all enjoyed the silly season with our festive feasts and drinks this beautiful mummy was happily adoring her 1st born. It certainly was a year to remember!
Oscar enjoys sleeping on his daddy's tummy whilst he's home and loves his food. Mum and Dad are smitten with their little "pud"
To all the beautiful mummies who gave birth over the festive season I would like to congratulate you all!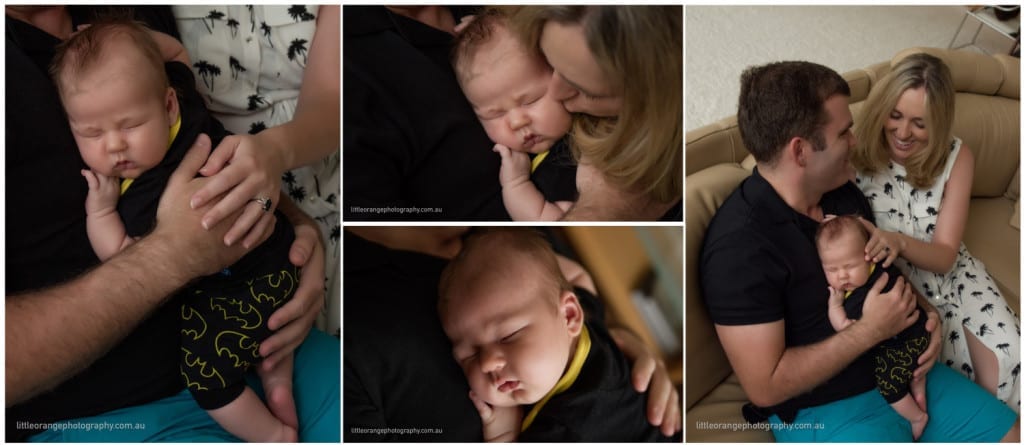 The christmas period is usually the most busy for all newborn photographers on the Gold Coast especially me but this one was slightly different for me and my family and as you were probably aware we were visiting England.
Although that's another story.
My recommendations for any mummy expecting over the christmas period is to contact your preferred newborn photographer on the Gold Coast as soon as you know you want to document your little one – it's the busiest time of year!
If you would like a session with Mel newborn photographer on the gold coast then please submit your enquiry here
Or call 0449658131 and chat to Mel.